Chris Giguere honored with 2018 outstanding dissertation award.
Congratulations to Chris, who received NC State's Department of Agricultural and Resource Economics 2018 Gerald A. Carlson Outstanding Ph.D. Dissertation Award. He was recently honored at an award ceremony in early May.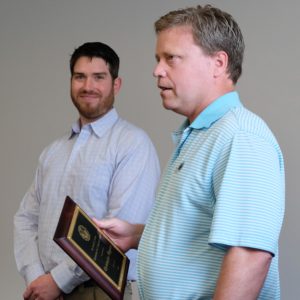 Chris's dissertation,"Costly Inspections and Limited Abatement: The Efficiency of Automobile Inspection and Maintenance (I/M) Programs" was chaired by Roger von Haefen, CEnREP Associate Director. His committee included Laura Taylor and Wally Thurman (NC State) and Steve Sexton (Duke).
Chris recently accepted a Natural Resource Economist position with NOAA's Office of Response and Restoration with the Damage Assessment, Remediation, and Restoration Program where he will be responsible for assessing ecological and human use injuries resulting from oil spills and chronic hazardous waste contamination. Congrats Chris!