CEnREP Alumnus moves up through the academic ranks
Congratulations to Nicolai (Nick) Kuminoff, recently awarded tenure and promotion to the rank of Associate Professor of Economics at Arizona State University (ASU).  Nick received his Ph.D. in Economics from NC State University in 2006, and after graduation, began his academic career in the Agricultural and Applied Economics Department at Virginia Tech.  ASU's Economics department soon recruited him as an Assistant Professor – where he won awards for his research and teaching along the way, including Outstanding Journal Article of the year (2009) in Journal of Agricultural and Resource Economics and recognition by ASU's Dean's Council as one of 100 Distinguished Scholars.  Being selected as a National Bureau of Economic Research Faculty Research Fellow in 2015 and Research Associate in 2016 underscores Nick's national prominence in the field of environmental and resource economics.
Having grown up in northern California surrounded by nature, the environment, hiking and exploring, Nick developed a keen appreciation for the natural world.  His undergraduate studies in agricultural and natural resource economics at the University of California-Davis convinced him that he wanted to pursue the training necessary to use the tools of economics to explore and move toward solutions for today's most vexing environmental issues.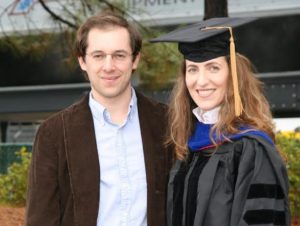 NC State's graduate program in economics was a natural fit for Nick given its "reputation as a graduate program that emphasizes empirically-driven (applied) environmental economics research." Nick also credits much of his professional success to CEnREP's "think-tank" atmosphere that he immersed himself in while pursuing his Ph.D.  "Working at CEnREP prepared me for my position at ASU in many ways.  It provided numerous collaborative opportunities for its graduate students, and trained me to do rigorous empirical research that is carefully informed by theory."
Nick also considers Camp Resources, an annual workshop for graduate students sponsored by CEnREP, as one of the highest impact opportunities he had while a graduate student.  "I can't overstate how important Camp Resources has been to my career. Camp Resources brings together the best constellation of researchers and policy experts in environmental economics in a constructive, high contact atmosphere."  He got to know many fellow graduate students and early career faculty through Camp Resources who are now his peers and co-authors and with whom he still stays in close contact with.
Nick summed up his time at NC State as follows: "It was an exciting place to be, with Camp Resources, research seminars, and the ability to interact directly with faculty on a daily basis.  It was a stimulating and rigorous research environment."
Nick is currently investigating how long term exposure to air pollution affects cognitive functioning and financial decision making among the elderly. Medical researchers have suggested that air pollution may cause or worsen Alzheimer's disease and other forms of dementia. Nick and his collaborators are studying how long term exposure to air pollution stemming from individuals' house location choices affects their cognitive functioning late in life, their health care expenditures, and their abilities to successfully navigate complex health insurance markets.
These days, Nick contributes back to the CEnREP "think tank" experience he once benefited from.  Nick has served on dissertation committees for NC State students, as well as mentored those who visited ASU for a semester in their "Pre-Doctoral" research program.