Mark your calendars: Camp Resources returns to Asheville, NC, for 2020 conference!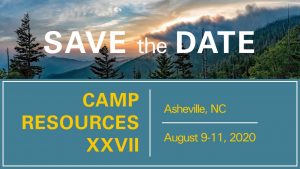 Camp Resources – the annual forum for graduate students and early-career professionals in environmental and resource economics to present research to their peers, senior academics, and leaders in the field – returns to Asheville, NC, this summer! This year's conference, now in its 27th year, will be held at the Cambria Hotel Downtown Asheville on August 9-11, 2020.
Registration will begin in the spring and space is limited. Follow @NCStateCEnREP and @CampResources on Twitter to stay up-to-date on all the latest Camp Resources XXVII news!