Christopher Galik offers new energy policy course in Fall 2018.
CEnREP affiliate and Associate Professor of Public Administration Christopher Galik, will offer a new graduate course in Fall 2018 titled Applied Problem Solving – The NCSU Climate Action Plan (PA 598/798).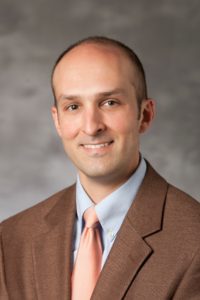 This course will provide an overview of evaluative frameworks, analytical tools, and available sources of data to inform decision-making on the NC State Climate Action Plan. Additionally, it will provide overviews of critical concepts, theories, and frameworks along with campus site visits and guest lectures from program directors and facility managers. In class, students will work to hone their skills dissecting problems, locating or generating appropriate data, formulating solutions, and reporting findings to critical constituencies.
The course will conclude with a formal presentation of the updated report to university sustainability office and Sustainability Council representatives and other internal stakeholders.
Christopher joined NC State's Department of Public Administration in the School of Public and International Affairs last fall as part of the Sustainable Energy Systems and Policy (SESP) initiative. He is a public policy analyst with strengths in experimental economic policy focusing on climate and low- carbon energy policy.