CEnREP Affiliate Zachary Brown's recent research considers economic implications of genetically engineered pests.
By Danielle Herman
While technologies for genetically engineering crops and agricultural pests have expanded dramatically, public understanding and approval of genetically engineered (GE) organisms has not increased at the same rate.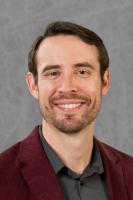 Zachary Brown, a CEnREP affiliate and environmental economist and assistant professor in the Department of Agricultural and Resource Economics, has worked on several recent studies seeking to outline economic questions that would need to be addressed by regulations on GE pests.
Brown started at N.C. State in 2014 as part of a cluster hire that developed the Genetic Engineering and Society (GES) Center. He holds a Ph.D. in environmental and resource economics from Duke University, where his dissertation focused on the economics of malaria control.
His interest in entomology led him to N.C. State, which is home to one of the country's leading entomology programs. Through his work as part of the GES Center, Brown has built collaborations with entomology professors and other faculty working in natural and social sciences.
"The GES Center cluster was one of the first clusters N.C. State created, and I think we've been fairly successful at what we've set out to do and in incorporating social science," Brown said. "Other universities in the U.S. are researching the social science questions surrounding these technologies, but I think the GES Center has been most successful at actually integrating the social and the natural sciences together in studying genetic engineering."
"Currently, my research focuses on various current topics in the economics of insect pest control — since coming to N.C. State this has mostly been in the context of agriculture because I see agriculture as a data-rich opportunity to investigate questions about the feedbacks between human economic activities and ecological systems."
Brown has a working paper under review titled "Voluntary programs to encourage refuges for pesticide resistance management: lessons from a quasi-experiment" that found a social marketing campaign did encourage more farmers to participate in regulations meant to slow evolutionary insect resistance to GE Bacillus thuringiensis (Bt) corn.
Brown's current research focuses on genetic engineering of pests in agriculture and public health. But while technologies might greatly benefit one it could have grave consequences for the other. At a workshop last October, Brown and other natural and social scientists discussed potential solutions, as effective management and policy are critical to the safe deployment and public trust of new genetic engineering technologies. From this workshop and a prior one sponsored by the National Science Foundation, Brown and several colleagues have a forthcoming paper titled "Economic Issues to Consider for Gene Drives" that will be published in the Journal of Responsible Innovation.