CEnREP Director Laura O. Taylor starts new term as AERE President.
The Association for Environmental and Resource Economists (AERE) will be led by its newly elected President, Laura Taylor.  Laura has previously served on the AERE Board of Directors and served as Vice President of the organization from 2008-2009.  Her two year term began January 1, 2017 and continues through December 31, 2018.
AERE is is an international organization dedicated to the encouragement of exchange of ideas, research, and other professional activities relating to environmental and natural resource economics and management, including that of an interdisciplinary nature. The association publishes two of the most outstanding journals in environmental and resource economics: its flagship research journal, the Journal of the Association of Environmental and Resource Economists (JAERE) and its policy journal, The Review of Environmental Economics and Policy (REEP) which is consistently ranked in the top-20 of all economics journals and top-10 of all environmental studies journals in terms of impact factors.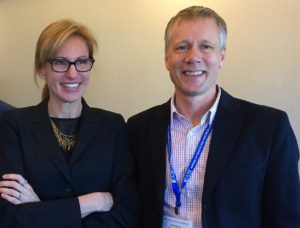 During Laura's term, AERE will host its annual Summer Conference in Pittsburgh, PA (May 31 – June 2, 2017) and, in 2018, will co-host the World Congress of Environmental and Resource Economists, to be held in Gothenburg, Sweden (June 25 – 29, 2018).
"I'm excited to get started and help move AERE forward!" said Laura, pictured to the right with Andrew Plantinga, AERE Vice President.  "We have a number of new initiatives underway already, spearheaded by AERE's terrific Board of Directors and the many volunteers that so generously donate their time to the organization.  Among other things, we'll be focusing on enhancing the way we communicate with members and increase the impact of the research published in our journals.  We'll also be increasing our support and presence at the half-dozen regional and national conferences at which AERE provides its members opportunities to present their work.  I'm looking forward to seeing these great changes, and others, as AERE evolves over the next couple years!"