New Startup Company Launched by CEnREP Alumna
Dr. Sanja Lutzeyer (Ph.D., 2012) grew up on the Western Cape of South Africa.  Her love of her Western Cape roots drew her back home, where she harnessed her analytical know-how to develop Xplorio, a community network that serves as a place for regional businesses and organizations in South Africa to market themselves online.  Xplorio, while contributing to general business development within communities, also serves as a destination marketing tool for tourism-oriented business.  Xplorio aims to empower towns to thrive online – especially the smaller ones, who have limited resources to effectively market themselves online.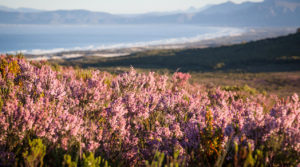 The integration of people, their livelihoods, and environmental stewardship has always been a part of Sanja's life.  She grew up on her family's nature preserve, Grootbos, where environmental stewardship, community development and entrepreneurship are long-standing family traditions.  Sanja's grandfather was a hobby botanist and her father is a life-long conservationist and philanthropist. Working with university biologists and botanists, her family helped discover many new species of plants that only exist in the Fynbos Biome, which is the most diverse floral kingdom in the world found only in the southern parts of South Africa. It was this interplay between nature, commerce and the surrounding communities that spurred Sanja's passion for environmental economics.
After completing a B.A. in Politics, Philosophy and Economics at Stellenbosch University, Sanja continued her studies at the interface of social sciences and the environment at NC State.  She received a Fulbright scholarship to pursue her graduate studies in the U.S., and she selected NC State as her destination because she was "attracted to the strength of the environmental economics program."   Early in her program, Sanja became engaged with CEnREP, attending the bi-monthly brownbag lunch colloquia and taking courses by CEnREP affiliated faculty.  "CEnREP faculty and students are intelligent, dynamic, inquisitive, and the Center's mindset was focused on creative problem solving, which was critical to my success in building a new company," said Sanja.
What excites Sanja the most about Xplorio is that the company is "building a workforce, contributing to small business development, and empowering towns to thrive online – especially the smaller ones, who have limited resources to effectively engage in destination marketing."  Xplorio empowers community members to showcase their business and information on a shared platform, enabling them to effectively and efficiently represent themselves in an online environment.  Based on basic economic principles, Xplorio is set up in such a way that individual business' efforts to attract customers result in a self-sustaining collective marketing movement of the town that would be impossible to attain through individual efforts.
Community spirit is also something Sanja appreciated while at NC State.   "CEnREP just had a great community spirit and it was an integral part in helping me achieve my academic and professional goals.  The quality of work that was expected and produced by CEnREP was outstanding and the opportunity to work in a collaborative environment was exceptional."
While building her company, Sanja still has time for research.  Her work with CEnREP Director Laura Taylor, and former Associate Director, Daniel Phaneuf, was recently profiled by NC State and news media outlets throughout the eastern U.S.
Sanja is well on her way to rolling out Xplorio across the country, strengthening the connection among people and the places they live in South Africa.  And in doing so, she's continuing her family's long tradition of entrepreneurship coupled with community development.  Recognizing that conservation of the environmental treasures that drew her back to the Cape requires strong communities, Sanja has come full circle applying the skills she learned abroad to build positive change for the place she loves.