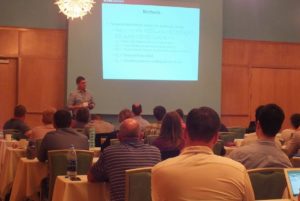 The CEnREP Luncheon Colloquium provides faculty and students with interests in environmental and resource economics an informal, ongoing forum to present research and receive early feedback on their projects.
All colloquia are held from 12:00 – 1:00 pm on Fridays in 216 Scott Hall unless otherwise noted below.
Spring 2019 Schedule
Upcoming Colloquia
Mar 1

Friday | 1:00 PM - 5:00 PM
Environmental, Water Resources and Coastal Engineering Graduate Research Symposium
James B. Hunt Library-Duke Energy Hall (NC State University Centennial Campus) 


Poster session @1pm

Keynote presentation @4pm:
Janet G McCabe, Professor of Practice, Indiana University, and former
U.S. EPA Acting Assistant Administrator for the Office of Air and Radiation will present:
"The past, present, and future of environmental protection: threats and opportunities:

Mar 22

Friday | 12:00 PM - 1:00 PM
CEnREP Colloquium: Mike Jones (NC State University)
216 Scott Hall 


Mike Jones, Ph.D. Candidate in Economics, will present: "Releasing Gene Drive Modified Insects to Reduce Insecticide Use: A Stated Preference Assessment of WTP Effects in Diverse Market Applications"
Fall 2018 Schedule
Friday, September 28, Faraz Usmani, Ph.D. Candidate in Environmental Economics, Duke University, "Fracking, farmers, and rural electrification in India"
Friday, October 5, Laura Villegas, Ph.D. Candidate in Economics, NC State University, "Land Use Planning for Flood Risk Reduction: The Economic Argument"
Friday, October 26, Sasha Naumenko, Ph.D. Candidate in Economics, NC State University, "Spatial and Temporal Dimensions to the Value of Recreational Fishing"
Friday, November 30, Nino Abashidze, Ph.D. Candidate in Economics, NC State University, "Solar Farms and Surrounding Property Values: An Empirical Analysis"
Spring 2018 Schedule
January 19

Lee Parton, Ph.D. Candidate in Economics, NC State University, Location: 3220 Nelson Hall
"To Build or Not to Build: Housing Supply Responses to Climate Change Policy Uncertainty"
February 2

Hyeongyul Roh, Ph.D. Candidate in Economics, NC State University
"Wind Generation, Inefficiency, and Market Power in Electricity Markets: Counterfactual Prediction with Dynamic Neural Networks for Causal Inference"
February 9

Andrew Grieshop, Assistant Professor, Dept of Civil, Construction & Env Engineering, NC State University
"Cleaning the Kitchen? Field Research on Interventions to Address Household Air Pollution in India and Africa"
March 16

Longzhong Shi, Ph.D. Candidate in Economics, NC State University
"Controlling for Unobserved Preference Heterogeneity and Site Characteristics in Recreation Count Data Demand Systems"
April 13

Erin Sills, Professor of Forestry and Environmental Resources, NC State University
"Enabling Local Governments to Respond to a Federal Environmental Mandate: Evaluation of the Green Municipality Program in the Brazilian Amazon"
April 20

Zack Brown, Assistant Professor of Agricultural and Resource Economics, NC State University
"Prices, Peers, and Perceptions: Field experiments in improved cookstove adoption in Ghana"
Wenyuan Tang, Assistant Professor of Electrical and Computer Engineering, NC State University
"Empirical Mechanism Design for Demand Response Programs"