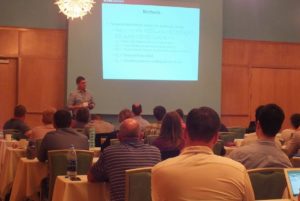 The CEnREP Bi-monthly Luncheon Colloquium provides faculty and students with interests in environmental and resource economics an informal, ongoing forum to present research and receive early feedback on their projects.
All colloquia are held from 12:00 – 1:00 pm on Fridays.  Room locations are posted with the full schedule and in the calendar links below.
Fall 2017 Schedule
All colloquia will be held in 121 Kilgore Hall unless noted below.
Friday, September 15

Raymond Guiteras, Assistant Professor, Ag & Resource Economics, NC State University
"Demand Estimation with Strategic Complementarities: Demand for Sanitation in Bangladesh"
Friday, September 22

Derek Lemoine, Associate Professor, Economics, University of Arizona, Location: 216 Scott Hall
"Designing Dynamic Subsidies to Spur Adoption of New Technologies"
Friday, October 20

Eleni Bardaka, Assistant Professor, Civil, Construction, and Environmental Engineering, NC State University
"Transit-Induced Gentrification: Causal Identification, Spatial Spillover Effects, and Equitable Transit-Oriented Development Solutions"
Friday, October 27

Matthew Johnson, Post Doctoral Fellow, Duke University
"Does Cleaning the Air Affect Workers' Health? How Firms Manage Multiple Regulatory Demands"
Friday, December 1

Maggie Monast, Manager, Sustainable Sourcing, Environmental Defense Fund
"Conservation in Agriculture: How Economics can Generate Greater Investment"
Upcoming Colloquia
Nov 3

Friday | 1:30 PM - 2:30 PM
CompSusNet Webinar: Paul Fackler (NCSU)



Paul L. Fackler, Professor of Agricultural & Resource Economics at NC State, will present a CompSusNet webinar, "Solving Stochastic Dynamic Programming Models without Transition Matrices".

Dec 1
All colloquia are from 12:00 – 1:00 p.m.

Friday, January 27

Moon Joon Kim, Ph.D. Candidate-Economics, NCSU
The Effects of Transboundary Air Pollution from China on Ambient Air Quality in South Korea
Friday, February 24

Justin Baker, RTI International
Potential Complementarity between Forest Carbon Sequestration Incentives and Biomass Energy Expansion in a Deep Decarbonization Policy Environment
Friday, March 17
Marwa Salem, RTI International
Multi-cropping and Acreage Response: The Case of the Central-West Region of Brazil
Friday, March 24
Jane Harrison, Coastal Economics Specialist, NC Sea Grant and Sasha Naumenko, Ph.D. Candidate-Economics, NCSU
Socioeconomic Analysis of the Atlantic Menhaden Fishery: Using Economic Data to Inform Fisheries Management Decisions
Friday, April 28
David Solis, Ph.D. Candidate-Forestry and Environmental Resources, NCSU
Impact of Inspections on Compliance with the Forestry Law in Peru