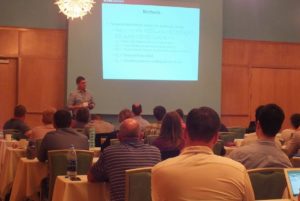 Update 3/13/20: Due to the spread of COVID-19, the remaining CEnREP Colloquia for the Spring 2020 semester have been cancelled.
The CEnREP Luncheon Colloquium provides faculty and students with interests in environmental and resource economics an informal, ongoing forum to present research and receive early feedback on their projects.
All colloquia are held from 12:00 – 1:00 pm on Fridays in Nelson Hall 2403 unless otherwise noted below.
Spring 2020 Schedule
Friday, January 10th, Dr. Jin Qin, Lecturer of Economics, College of William and Mary, "A Test of the Relationship between Air Pollution and Trade Liberalization: The Case of China"
Location: Nelson Hall 2405
Friday, January 24th, Dr. Hyeongul Roh, Postdoctoral Fellow, Duke University, "Wind Energy, Transmission, and Production Costs: Does Increased Connectivity Help All?"
Location: Nelson Hall 2405