Presidential Award given to alumnus Alex Marten (Ph.D., 2009)!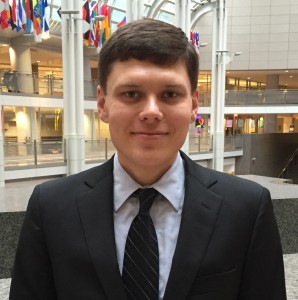 Congratulations to Dr. Marten, CEnREP affiliate alumnus, who has received the Presidential Early Career Award for Scientists and Engineers.
The award is the highest honor bestowed by the United States Government on science and engineering professionals in the early stages of their independent research careers.
In announcing the award, President Obama said "These early-career scientists are leading the way in our efforts to confront and understand challenges from climate change to our health and wellness," President Obama said. "We congratulate these accomplished individuals and encourage them to continue to serve as an example of the incredible promise and ingenuity of the American people."
Awardees are selected for their pursuit of innovative research at the frontiers of science and technology and their commitment to community service as demonstrated through scientific leadership, public education, or community outreach.
Alex received his Ph.D. in 2009, under the supervision of Paul Fackler, CEnREP affiliate.  Alex's dissertation focused on regulatory uncertainty with an application to hazardous waste site cleanup.  Upon graduation, Alex accepted a position as an economist in the US Environmental Protection Agency's National Center for Environmental Economics in Washington, D.C.
Read more about the award in the White House press release >>