Twenty-seven graduate student and young professional presentations, a panel discussion on the economics of biodiversity featuring Sir Partha Dasgupta, and a lunchtime talk on discrimination in housing markets by Dr. Christopher Timmins highlighted this year's Camp Resources, a workshop dedicated to the training of the next generation of environmental and resource economists. Camp Resources, now in its 27th year, was held at the Cambria Hotel in Downtown Asheville, NC on August 8-10, 2021. Fifty participants provided feedback on student and young professional presentations that ranged in topics from land use, water markets, energy systems, transport, and environmental risk. Check out the full schedule of events.
The workshop also featured a panel discussion that was stimulated by the recently published report on the economics of biodiversity commissioned by the UK government. CEnREP affiliates Erin Sills and Raymond Guiteras joined Ryan Abman of San Diego State University and Sir Partha Dasgupta, the Frank Ramsey Professor Emeritus of the University of Cambridge and a pioneer in the field of environmental economics, to discuss the report's key findings and implications for sustainable development, particularly in the developing world. Later in the workshop, Christopher Timmins, Professor of Economics at Duke University and a recently elected fellow of the Association of Environmental and Resource Economists, gave a talk exploring discriminatory practices in US housing markets and their implications for environmental justice and nonmarket valuation.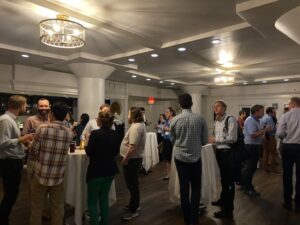 "The conference was fantastic," a student presenter shared through an anonymous survey. "I was so grateful to be able to attend and to have the opportunity to present my work. As a presenter, I found the feedback to be both constructive and delivered in a supportive/helpful way, and I was very impressed with the richness and quality of questions/comments that the audience produced throughout all of the sessions. This conference was an invaluable opportunity for me to get feedback and expand my network, and I hope to be able to attend again in the future!"
Camp Resources is organized by the Center for Environmental and Resource Economics Policy and made possible by the generous support of the Journal of Environmental Economics and Management, Resources for the Future, Industrial Economics and Georgia Tech's School of Economics.