CEnREP affiliate's Maymester course shows students rural economic development up-close
The best way to learn a subject isn't always reading about it in a book or jotting down notes in a lecture hall. Sometimes it also takes stepping out of the classroom and gaining firsthand experience. Last summer, 28 undergraduate students in the Department of Agricultural and Resource Economics did just that.
During the three-week Maymester 2019 course ARE 495: Rural Economic Development, taught by CEnREP affiliate Jane Harrison, students supplemented their classroom learning about the basic tenets of regional economic theory and the strengths and weaknesses of various economic development strategies with hands-on experience in rural eastern North Carolina. Harrison, North Carolina Sea Grant's coastal economic specialist, led the group on a three-day expedition to Hyde and Tyrrell Counties along the North Carolina coast, where they visited with local entrepreneurs and economic development experts.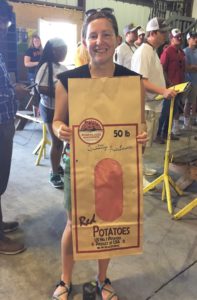 Among the stops on the trip was Pamlico Shores Produce in Hyde County, where students learned about the importance of investing in value added processing: the potatoes cleaned and packed into bags at the facility command a higher price at market. In Tyrrell County, the class visited the Full Circle Crab Company, where owner Willy Phillips produces higher-value soft-shell crabs using recirculating aquaculture technology. Students were able to see the crab molting, or shedding, in tanks located behind Full Circle's retail and wholesale seafood market.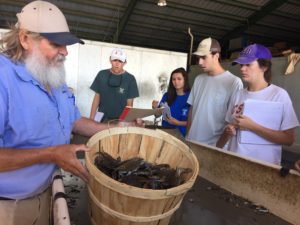 Students value the course for its smaller class size and the opportunities to actively engage with their peers, as well as rural leaders and entrepreneurs. They appreciate the chance to consider the economy of a region holistically and come up with their own solutions to rural economic development.
A final paper enlisted the students to propose one specific economic opportunity for a community they visited to undertake. "I am always impressed by the variety of student ideas that could contribute to rural prosperity," says Harrison. From workforce to supply chain development, students explained what they would do, imagining themselves as an economic development consultant.
"I created this course so that students can connect economic theory to reality," explains Harrison. "Most school and university classrooms benefit aural and visual learners. By getting outside and interacting directly with rural business owners, farms and communities, I reach the kinetic, or active learners, as well as those who learn by touch, even smell. When you taste an oyster, you won't forget it comes from the ocean."
Harrison's research interests focus on the intersection of economic development and coastal resource management. Her recent efforts include an assessment of North Carolina's "blue" economy and extension activities with the state's fishing and marine aquaculture industries. She plans to offer ARE 495: Rural Economic Development again during Maymester 2020.